People of Sheavyn
---
Becky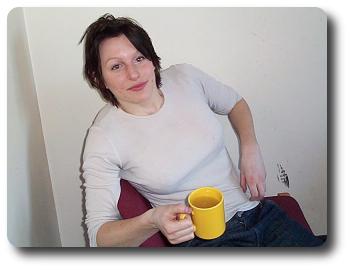 Becky is one of the legends of the good old days of Flat R, when there were five women here. As is obvious from the photograph, she was drinking tea all the time. She left us a month ago and now this place is empty.
---
Yiannis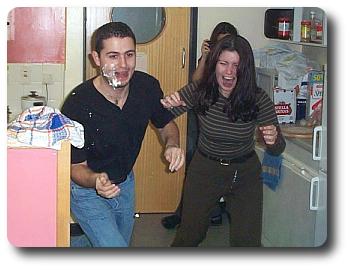 Yiannis is a living legend of Flat S, but here he is in the kitchen of Flat R, in the most famous photograph ever taken in Sheavyn House. It is Tsikno-Thursday, 2 March 2000, and here he and Dia are playing by throwing tzatziki to each other. In the picture the main quantity of tzatziki has fallen upon Yiannis, but as you can see his blood-stained eyes are longing for revenge.
More information and pictures about Yiannis are available in his web page.
---
Katerina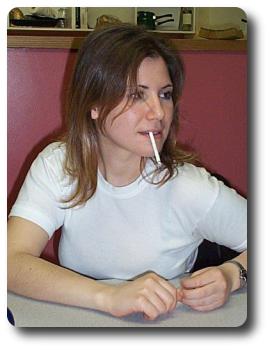 This photograph is a reminder of the good old times when Katerina's contact lenses hadn't broken yet. Now she is wearing her glasses all the time, but it is generally believed that she is equally charming both ways.
---
Armine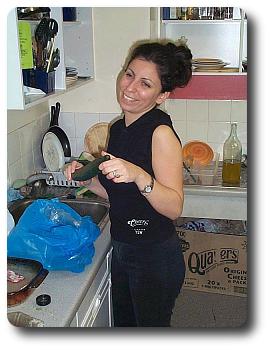 Armine (i as in fit, e as in pet, accent in e) is definitely the greatest gomena here. She is also the best piano teacher.
---
Anthony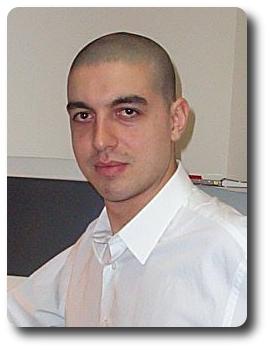 I am the pan specialist of the flat. I should also add that Anthony is my false name; my real one is Replicas.
Costas Replicas.
---
Evaki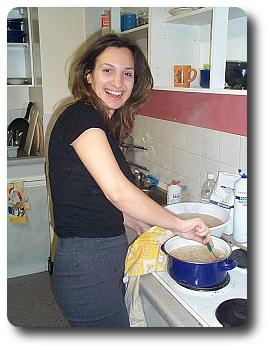 Evi is the loveliest aquaintance, provided she is in good mood (which is rarely the case). Her great strengths are fried potatoes and chicken soup. No-one really knows what we would do without her.
---
Dia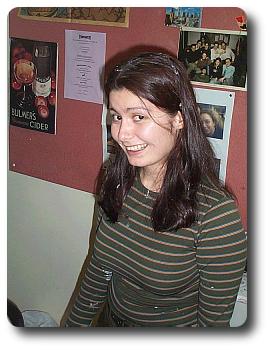 Dia is the most celebrated figure of Sheavyn House. This photograph is the result of Yiannis' tzatziki revenge.
---
Nectarios and Vikash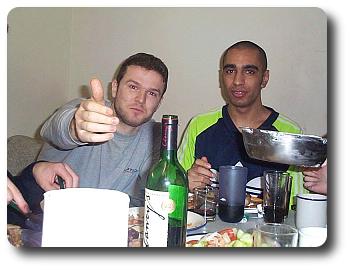 Nectarios (left) is the spicy little something of Flat R. Vikash (right) is notorious for convincing people install Windows 2000.
Also featuring in this picture is the big tzatziki container on the right.
---
Mouga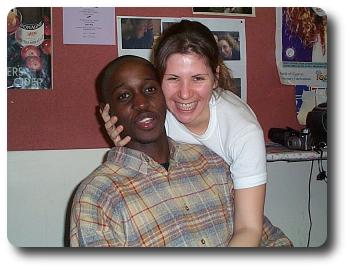 Our specialist in the psychology of women.
---
Louise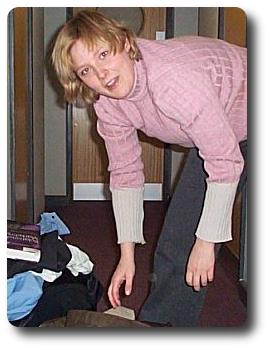 Back from one of her many trips, Louise, in this photograph, is in the middle of a search for her keys. Louise and Adam (we don't have a picture of him yet) are going to leave this place in early April. Sheavyn House gradually loses its glory.
---
Dimitra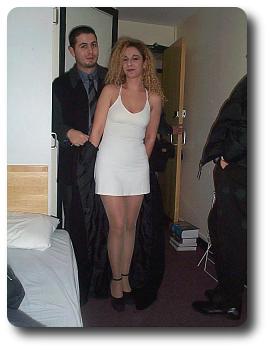 Dimitra is the oven specialist of the flat. Admire her here, where she prepares to impress everyone in the party to follow.
---
Angelique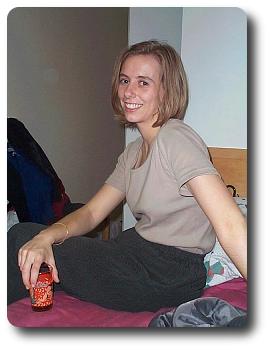 Angelique is under construction.
---
Others
More Shevynians will be added later, when we take pictures of them.
---